A message from the artist, Jim Zver –
I am pleased that my Implications Series* wall relief, Implications #30, will be included in the Los Angeles Art Association's Open Show 2018 at LAAA's 825 Gallery. Implications #30 is one of eight reliefs completed in this ongoing series in 2017.
The Open Show 2018 was selected and curated by gallerist Cynthia Corbett, owner of the Cynthia Corbett Gallery, with exhibition programming in London and New York as well as collaborations with galleries worldwide.
The Los Angeles Art Association Gallery 825 is located at 825 North La Cienega Boulevard. The dates of the exhibit are from 15 December 2018 through 11 January 2019. The Artist Reception is on Saturday, 15 December, from 6 to 9 PM. It would be great to see you at the opening or if you can see the exhibit during its run.
Have an excellent day and a terrific Holiday Season.
Jim
____________________________________________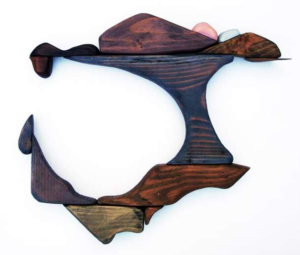 *Implications Series 2014 –
This ongoing series of painted wood reliefs was begun in 2014, prompted by my discovery of the possibilities and pleasures of a Makita angle Grinder tool. Initially bought for its ability to easily remove layers of paint and damaged wood surfaces, I soon saw its potential to shape the individual pieces of wood I use in my sculptures into forms closer to the biomorphic ones I use in my collages.
These abstract, non-objective collages, although not directly intended, have always contained suggestions of subject matter. I make no attempt to avoid this, nor is it possible, since the collage shapes and their arrangements are formed and chosen by a lifetime of focusing on images that I have remembered, responded to and enjoyed.
These relief's more contemplative and deliberate process of assembly, each piece cut, shaped by grinding, sanded and carefully considered before it is dowelled and glued in place, intensifies their sense of subject matter. The finished reliefs, with their implied imagery, become the recipient and container of many implications