The Autry National Center in Burbank probably doesn't spring to mind as a top choice for viewing contemporary art in Los Angeles. The "Singing Cowboy" achieved enough for ten lifetimes given accomplishments in music, film, and television, but he was also a great collector of western and Native American art and memorabilia. In 1988, the museum in his name was established, and so to the current show…
Rick Bartow's, "Things You Know But Cannot Explain", exhibition is simply unmissable. Rick Bartow was a Native American on his father's side, artist, and member of the Mad River Band of Wiyot Indians, a small tribe indigenous to Humboldt County, California (c/o Wikipedia). His relevance is evidenced by who he himself strongly influenced (Basquiat for one), and by the extraordinary breadth of mediums he mastered: painting, drawing, mixed media, sculpture, wood works, and ceramics.
His youth in the Pacific Northwest led to art school and a stint in the Vietnam War, where in addition to being a teletype operator, he played guitar and sang in the medic ward. Needless to say, this mishmash of real and learned imagery played a huge part in his artistic visions.
The show focuses on five areas the curators felt best expressed his work: Gesture, Self, Dialogue, Tradition, and Transformation. Across these "lenses" what you see are humans, animals, and spirits who seem to be caught, contorted, pained, blessed, and mythical all at once. "Bear Medicine" depicts a human figure with a bear's head dancing trance-like in mid-air. In other works, magic pervades with coyotes, crows, horses and ravens as they seem to reach out across the one dimensional canvas directly into your space. Some of the works are harder to digest than others as he doesn't shy away from the misformed and ugly. But, as he mentions in one of his videos, It's not the kind of thing I would have at my own house. I make them, but I don't have to live with them – others can hang it on their wall!
So, in the artist's own words and images: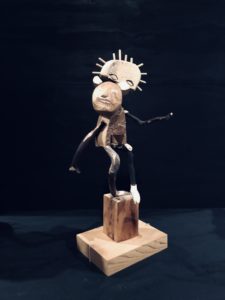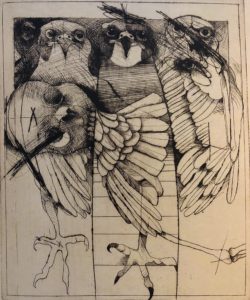 GESTURE: "In the mark, in the chisel, you can't lie, you can't hide from it. Unless you don't do it at all."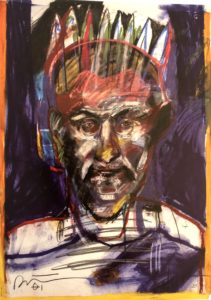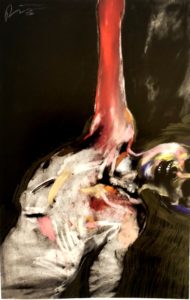 SELF: "We have to reveal ourselves. In the way that we reveal ourselves, we let our life shine."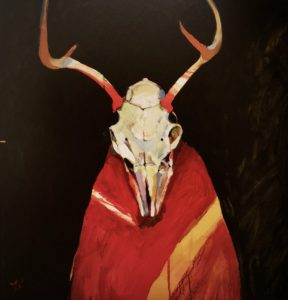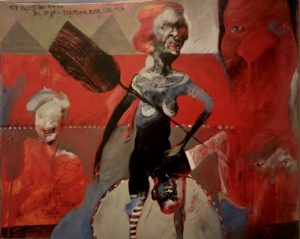 DIALOGUE: "Is there a lesson to be learned? There's a time for entertainment. Children understand. Adults muck it up."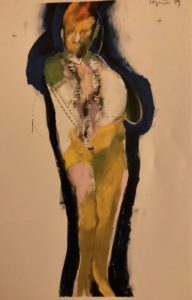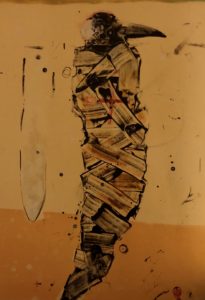 TRADITION: "There are old things which I have been able to lay my hands on. I've studied. I've listened. I sit by the truth. If you slow down a bit, you'll see that it will help you, too."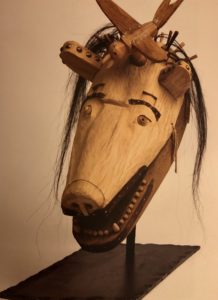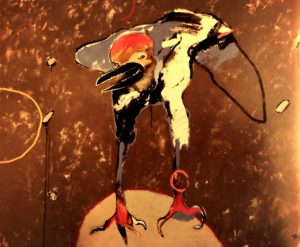 TRANSFORMATION: "If it didn't hurt, we didn't remember it…Some people see something through it, but some don't see anything at all."
I personally haven't been moved by an artist like this in some time. This is a phenomenal show…and, by the way, Gene's stuff is pretty cool too!
Welcome to Sujac Studios – Enjoy the view!