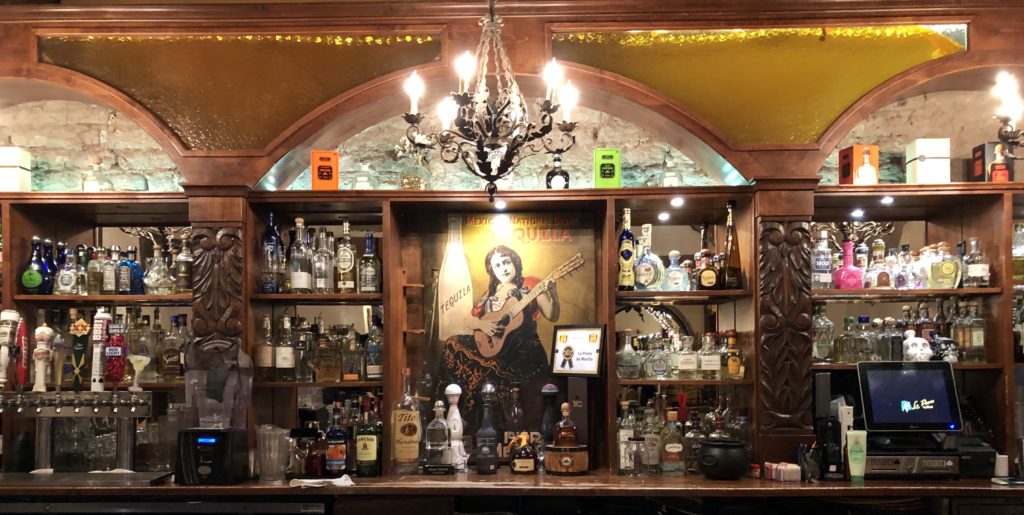 Bar art is unusual, at best, and fairly ill-considered, at worst. However, on a recent road trip to Austin, Texas, we stayed in Old Town Las Cruces, New Mexico; Marfa, Texas; and Scottsdale, Arizona, where we came away surprised and delighted at the variety of things we saw from the perspective of supping from a bar stool.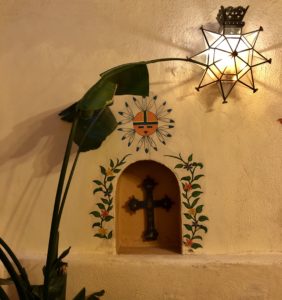 At The Double Eagle in Las Cruces, we were entertained by the bartender but also by the many depictions of the old Native American – Mexican – cowboy West. Who knew that what we were seeing was an intimate biography of the place, unknown and untold to most? Who knew that it was in Las Cruces that the Treaty of Guadeloupe Hidalgo was signed in 1848, which established that the United States owned the territory? The Gadsden Purchase followed in 1853, and officially transferred 45,535 square miles of Mexico to this country. The old town, called Mesilla, is a worthy stop. Up until the Gadsden Purchase, Mesilla remained part of Mexico, and became a place where those not wanting to live in America could find refuge. Today, in the town square, you can visit the famed San Albino church and see original adobe buildings from this period. Needless to say, it remains the gathering spot for cultural events and holidays celebrating Latin-American heritage.
Marfa's "bar art" was another experience altogether. This small speck of a place in Far West Texas (see our previous blog post), is unique. Art is a way of life for the residents, and visitors spill in from all over the world to see and buy from the many blue chip contemporary galleries. The bar art, by contrast, is strictly down-to-earth. Our favorite spot was The Lost Horse (my husband nearly declined to walk in given its "'rustic" nature), where a boar's head sits over the cash register, wearing a fishing hat and sunglasses, with a cigarette jauntily hanging from its jaws. The place is enhanced by tales of the "Marfa lights" and there is the occasional alien depicted on the walls.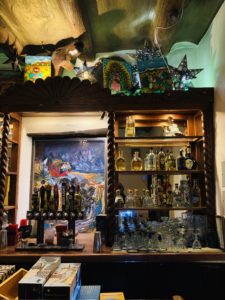 On our return trip, we stopped again in Las Cruces and dined at La Posta de Mesilla. Self described as "a New Mexican restaurant in an 18th century stagecoach station…also features a piranha tank and aviary." Spectacular! Lest you think, dear reader, that my tone is sarcastic, it is not. The religious iconography was abundant and truly beautiful. Each room had its own flavor and unique pieces that are a joy to see. The margaritas weren't bad, either.
Scottsdale was our last stop. Reminiscent of Carmel, Ca., where there are plenty of galleries – not all good – and lots of money. We dined (this time at a table) with our good friend and artist extraordinaire, Rob Townsend, in The Valley Ho Hotel's restaurant, Zuzu. The company and food were delicious, and the design of the place decidedly mid-century Palm Springs. L.A. could not be far away.
So, next time your wanderlust strikes and the open road beckons, take time to take in the art along the way. It may not be museum worthy, but it speaks to a time and place and, sometimes, has a tale to tell. Who knows, you may find, as I did, a history lesson or two along the way.
Until next time, bon voyage!
Sujac Studios