Artistic visions come in all kinds of forms and expressions. Marfa, Texas is an exceptional town, inexorably linked to artist Donald Judd's minimalist take on the world. So what makes Marfa special? Where else do people come together to host "star parties" in the dark zone, and protest to "save the adobe?"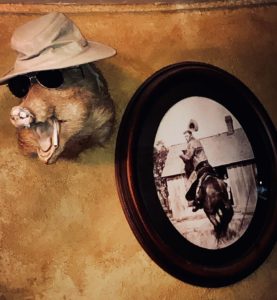 Marfa sits in the high desert of Far West Texas, some 6 and a half hours from Austin, and 3 hours from El Paso. It is possible to run into more tumbleweeds than people on the way there, and gives new meaning to the Talking Heads song, "Road to Nowhere…There's a city in my mind, come along and take that ride." Indeed.
Once there, the level of sophistication astounds. Where did all these Soho-ites come from? Jil Sander selling in the shops, and every brand and flavor of kombucha at the Get Go Grocer, and nary a pair of overalls in sight. Did we land in an alternative universe? Yup, welcome to Planet Marfa.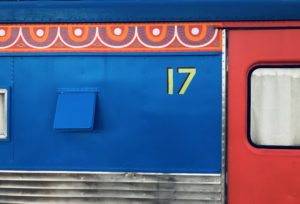 Here's a bit of background…Donald Judd (1928-1994) began in NYC as a painter and art critic studying at Columbia and the Art Students League. He began traveling around Mexico, Arizona and New Mexico in the late 1960's "where he enjoyed the solitude and spaciousness of the landscape." In the 1970's he bought and consolidated army barracks in Marfa to house his and his contemporaries' large scale works. At the time, it was dubbed "The Marfa Project." Judd established the Chinati Foundation – named after the Chinati Mountains – in 1986. The foundation functions as an independent, non-profit institution, and is a tribute to his unique art and influence.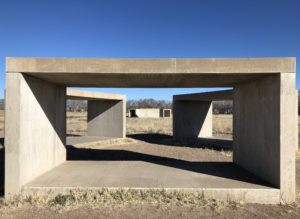 So, the artistic heritage of Marfa is clear. What is beautiful is how incredibly consistent that mission still is today, which is reflected in the curators' tastes in the galleries around town. But there are other charms … after an unsuccessful bid to see the famed "Marfa lights," we headed to a local watering hole called The Lost Horse to take in some tequila and nightlife. The bartender is actually a photographer; the couple at the end of the bar are artists in residence at Building 98, a Chianti Foundation legacy, and the man playing pool is a prominent gallery owner whom we saw at dinner the night before. The "locals" are pretty cool.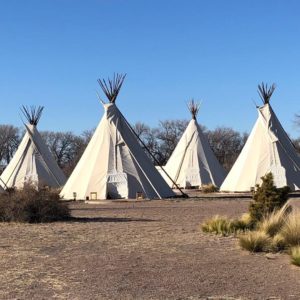 And where to stay? The houses are being renovated, there are Airbnbs galore, and then there is the El Cosmico. Liz Lambert, famed Austin-based hip hotelier, is the creator of the campus known as El Cosmico … this "hotel" has tents, yurts, teepees, and trailers for every kind of visiting experience desired, and is only a quarter mile south of town. (Town may be 5 square miles at best). You would not be wrong to mistake the staff for Bennington or Savannah Art College grads, and consider buying a place, just because …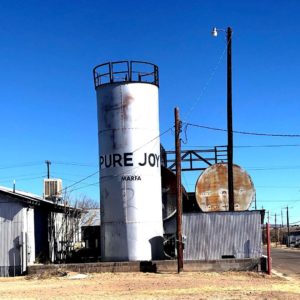 … I could go on. Suffice to say that Marfa is an art, architecture, and design maven's dream. It is also just north of one of the most beautiful national parks in America, Big Bend. "Road to Nowhere?" Not so fast. Slow down and spend some time in far-out Marfa in Far West Texas.