Sujac Studios is dedicated to bringing you the very best of the art world — not just works to hang on your walls — but news from those creating the works that mold and shape our universe.
Henri Matisse once said, "Creativity takes courage." It's hard to toss out before the world the very soul of your creations. Jim Zver is an example of an artist who has managed to overcome those fears to bring the world his very best. And the efforts are not unrecognized.
The online literary journal Calibanonline selected two of Zver's works for inclusion in Issue #35. They featured Alucinación #6 and #25, selected from a suite of 30 drawings Zver completed during a trip to Spain. The drawings were done over the course of August through October 2018 in the city of Madrid. According to Zver:
This was a very productive three months, August through October 2018, and I returned to Los Angeles with a suite of 30 drawings. They are a repository of forms and compositional strategies for future sculptures and collages but also feel they stand on their own as a finished body of work.

As the drawings developed, the convoluted and organic forms I focused on emphasized and enhanced their dreamlike quality. Luis has often suggested titles for my work and he began to refer to these as hallucinations. This increasingly seemed an apt description of them and I have chosen that as their title. Since they were conceived and executed in Spain and the title suggested by a Spaniard, I've used the Spanish spelling, Alucinaciones, which seems appropriate for these works.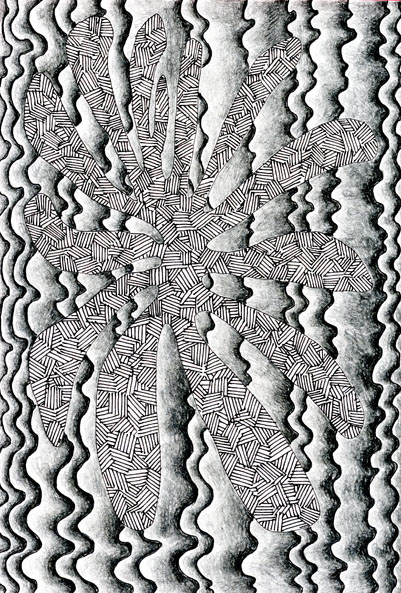 The Alucinaciones Suite is a critically-acclaimed suite of Zver's drawings that has received much attention. Calibanonline publishes primarily poetry but has published prose by, among others, William Burroughs, Maxine Hong Kingston and Raymond Carver.  It has also always featured art, including an art portfolio produced for Documenta 8 in Kassel, Germany.  This portfolio, in Caliban Issue #3, included works by, among others, Eberhard Bosslet, Alfredo Jaar and Robert Longo. 

This is Zver's sixth time having work in this publication. His collage, From Another Place #17 was featured on the cover of Issue #5, three After Madrid Series collages were included in Issue #18, two Cambrian Series collages in Issue #22, two ink and charcoal Spanish Drawings in Issue #24 and two Vallecas Suite watercolor drawings in Issue #31.
You can see this issue of Calibanonline http://calibanonline.com/CO35/.