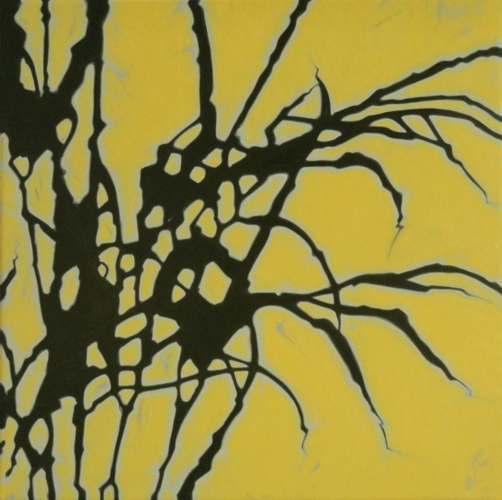 FEATURED ARTIST
Jill Sykes
Jill Sykes was born and raised in Los Angeles, completing formal artistic training at Otis Art Institute and the Academy of Art/Lone Mountain College in San Francisco.
Working as a Graphic Designer and Illustrator in the fields of Film and Business Advertising, Animation, and Educational Media, she designed and implemented countless corporate logos. Eventually, her work began to focus on painting and in the late 1990s, Jill enrolled at the Santa Monica School of Design, Art & Architecture. This led to her current work in oils and printmaking — the explorations of color, shape, movement, and mood.
Jill's paintings have been exhibited across the country including the Museum of Art + History (MOAH) in Lancaster, USC Hillel Art Gallery, and Tobey C. Moss Gallery. She was also recently featured on HGTV'S "Extreme Homes" in an episode highlighting her work on "Sycamore House," a project where she designed a "shadow" motif of sycamore trees that was sandblasted onto the entire outside of a new home in Pacific Palisades.
Jill is drawn to the negative spaces of branches and leaves; the elegance and energy of natural forms and the visual dialog between figuration and abstraction. Ultimately what she has come to realize about her work is that it is a search for a kind of serenity — a safe place. Henri Matisse once said: "I am painting a place where I want to be."
"We as artists create objects that nourish and enrich existence, and as such, what we do, consciously or not, has profound effect." – Jill Sykes
OTHER ARTISTS